Club Notes March 28th 2016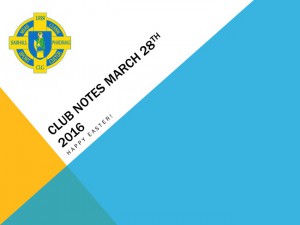 All roads lead to Killarney this week with our Ballad Group and Gareth in the All Ireland Scór final in the Gleneagles hotel on Saturday. With a large crowd of family, friends and supporters, there'll be plenty of cheering for Down's representatives in the finals, with Burren in the quiz section too. It will certainly be difficult to surpass the performances at the Ulster final, but we know that they can do it! Adh mór to Gareth, Angela, Catherine, Grainne and Katelyn.
It's here, it's time – football is back. By the time these notes are published, the minor footballers start us off when they host Clonduff in the all county minor league on Tuesday (29th) evening at 6:45pm. Then its down to the U16 boys who host St Paul's in the East Down league on Thursday evening at 6:45pm. U14 boys head to Carryduff next Monday night, with the minors then travelling to Mayobridge on Tuesday 5th.
Girls are also starting with U17and U14 playing Dundrum in their openers. TBC
Primary school coaching begins on Thursday 7th from 6:15-7pm at the pitch. All of our 'old' players and any who want to join are more than welcome to come along and enjoy the fun. P1 & P2 parents must stay with their children.
Senior football sees the men at home to Attical on Friday 8th April. Throw-in at 6:45pm.
Thankfully we'll now see some action on the field. We are still looking to ensure the grounds are ship shape, so please, if you can, lend a hand. Over the next couple of weeks, we're hoping to paint the gates and clubhouse. An hour of your time during the brighter evenings would be very much appreciated. The gates need stripped before painting and there's a scraper at the gates, if you could take twenty minutes at any time to help.