Club Notes 15th May 2017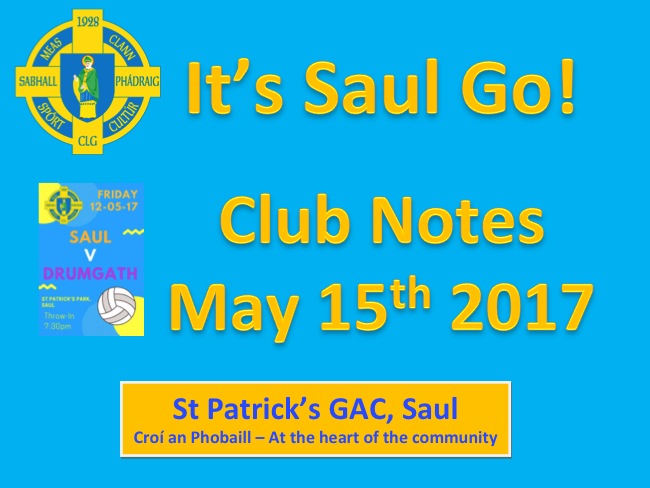 Club Notes 15th May 2017
Senior men – with the passing of summer it would be easy for the gloom to set in but Friday night at St Patrick's park gave plenty of reason to believe it will be more than just the score board that will shine in the months to come. In a first half that should have yielded more scores for both sides, it was Saul who were probably more disappointed at the break with a lead of 1-05 to 0-07. Some poor decision making inside the Drumgath forty proving costly. In the second half, both sides went at each other point for point with Saul scoring one more point than Drumgath to leave two in it at the end. Final score 1-10 to 0-11.
In a strong team performance it would be wrong to single out individuals but Callum Mahoney was a revelation in the full back line. Equally worth a mention is Conor Tumelty for his commitment but this was a team performance both defensively and in terms of attack. A deserved win that keeps momentum going strong. No match this week.
Reserves Well done the Ressies. A third win on the bounce and some fine performances from lads kicking on the door of the Seniors. Great to see such commitment from so many and support too. Younger lads like Shea McComiskey and returning players such as Mark Curran mixed with older heads like Donie Ritchie are proving to be a potent mixture with five goals scored on Sunday evening. An away trip to Liatroim this week will be a great test.
Minors enjoyed another success, this time against Dromara. Highlights included a great goalkeeping display by Dylan Connolly, and tremendous drive from the McComiskey brothers, with Shea's point scoring particularly impressive. Ruari O'Hare's eye for goal was matched by his high fielding, but in truth , the real strength of this squad is their attitude and teamwork.
Although narrowly beaten by Tyrone in the Ulster semi-final, both Saul lads Jack Hazard and Callum Fitzsimons have acquitted themselves well throughout the campaign, and have a great future ahead.
U16 boys had to pull out all the stops to overcome a strong Darragh Cross side this week. In the first half, Philip Doran & Ruari O'Hare at midfield helped the Saul lads reach half time with a two point lead,goals coming from Jack Fitz, & Sean Fitz. Second half was equally as tense, though with 25 minutes gone, a five point lead seemed like enough to gain the points. A point and a goal however, from a spirited Darragh side, gave the home support a sweat and when the final whistle blew, a one point win was greeted more in relief than joy. Good performances from the lads all round, but particular mention to Lorcan Burns who stepped into goals and proved he has great potential between the sticks as well. With exams kicking in this week, there will be no training until Sunday at the usual time. Good luck to all the lads with their studying this week and during their exams.
U14 boys competed well against Ardglass but were unlucky to come up against a one man goal machine. Not easy to keep going when results aren't going your way but the lads have continued to battle and there's been plenty of improvement individually and collectively. It is great to see the determination going into each game and with this continued effort, the lads will have plenty to be happy about in the years ahead!
U12 boys took a heavy defeat at home to Bryansford on Sunday. The boys have been finding it difficult in Section A, but to their credit have been working hard in training to improve their skills. Keep at it lads!
Good luck to Australia as it awaits the arrival of Sir T Magennis. Keep in touch Tommy!
U8s & 10s back to training as normal this Saturday at 10:30am.
On the ladies side, we have U12 girls away to Bredagh on Wednesday, Senior Ladies are at home on Saturday evening to Saval with throw-in at 7pm. U14 girls head to St John's on Sunday afternoon at 12:30pm
Football committee meeting for all mentors and coaches on Thursday 25th May at 7:30pm in the clubhouse.
Pitch care/ ground maintenance. We encourage any members with Lawnmowers or other gardening equipment to contribute to pitch care when they can. Even a couple of hours any even or weekend will be appreciated.