Club Notes 21st August 2017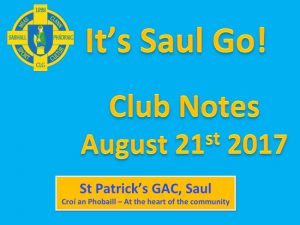 Senior Men played more like we know they can when they met Glassdrumman in the IFC on Saturday. Both teams shared the points in their recent league meeting, so it was a close one to call beforehand, but the blistering start from the lads showed a real determination and belief that was sadly lacking the previous week. From the throw-in the ball was sent upfield by captain Rory Mullen and was dispatched to the net by Lorcán Harney with a fine finish. If Carlsberg did starts, then this was straight from them and it was followed by a cracking point from Mark McGrady, when a goal was probably on as well. It was all Saul and Glassdrumman couldn't get past midfield at this stage, but that Mourne grit soon kicked in and two points from Down star Connaire Harrison and a free kick brought it to a one point game after ten minutes. Saul then started to move again and points from McGrady, Ciaran Harney and younger bro Lorcán restored the four point lead they had started with. Glassdrumman kept battling to get forward, but tackling from Daniel Napier and Cormac Byrne stifled their fluency and meant that the ball kept returning to blue jerseys quickly. Evergreen Philip Traynor, coming from deep won ball and sent a fine pass into Ciaran Harney who held it just long enough before offloading to a speeding Pirece Laverty for the second goal of the game and a seven point lead five minutes before half time. McGrady tagged on another point and it seemed that the lads felt they were home and dry. Championship football is never over until the end though, and a lapse in concentration lead to a goal for Glassdrumman when some defensive laxness allowed them in. It was probably just what the sideline wanted, so they could emphasise the need to stay focused and keep pushing on during the halftime break.
HT Saul 2-05, G'drumman 1-03.
The second half began much more tamely than the first with both sides trying to keep it tight and wides were exchanged before captain Mullen sent over a fine long range point with the outside of his left boot. As fine a score as there was all afternoon. It was followed by a point from the opposition and then Lorcan sent over a point from a great run by Callum Mahoney who had a fine hour all over the pitch. Glassdrumman sensed that it was now or never if they wanted to progress and they started to commit more men forward. It seemed to pay dividends as they got closer to goal and pushed Saul back. An unbelievable save from Gareth Brown in the Saul nets when it seemed a goal was certain was taken straight up the field for a free kick to be sent over by Ciaran Harney. Glassdrumman pushed on again and were rewarded with a penalty after an umpire drew the referees attention to a foul inside the square. A goal now would bring the deficit back to four points and with the wind on their backs, would bring Glassdrumman right back into it. Instead, a great save from Brown (who was excellent apart from one lapse on the day) and clearance gave Saul the psychological advantage and meant they could kick on for the win. A great team goal after good work by Traynor and finish by Ciaran Harney, put the icing on the cake and even a late goal from the Mourne men wasn't enough for them in the end.
Final score Saul 3-11 Glassdrumman 2-06.
It was a fine performance that was at last reflected on the scoreboard, which hasn't ticked over as nicely in the previous few games and means the boys now move on through the back door route of the IFC. In a game where each and every player was on top of their opposite number, it would be extremely difficult to pick one over the other. It was also great to see and hear the excellent support from the lads on the sideline who didn't start, but are just as important to any victory on the field.
Next matches will be played this weekend, so keep an eye on social media for that.
Minors opened their championship campaign with a narrow three point defeat at home to Baile an Locha. In a game that never had more than a few points in it either way, the Saul lads showed a lot of promise, but their lack of composure in the last third, really came back to haunt them. In the first half they could easily have had another two goals on top of the two they scored via the penalty of James Mahoney and boot of Shea McComiskey, leaving the half time score with the boys two points down. A great start to the second half with a goal and two points from Ronan Connor and a point from Mahoney, put the boys in front. Another goal from McComiskey, really started the home crowd thinking this could be their night, but the opposition settled into an attacking rhythm and sent over some fine points to put themselves back in front. In the last two minutes a goal line clearance and a shot narrowly over the bar, ended the game for Saul as they just couldn't get that vital goal at the end. Final score Saul 4-07, Baile an Locha 3-13. Next up is a tough away game in Bredagh on Tuesday evening.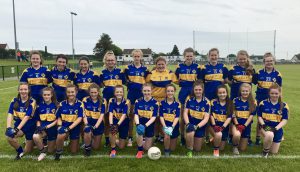 U16 girls had another busy week but unfortunately came out the wrong side of both matches. Wednesday saw a defeat to a strong Dundrum side, in terrible conditions. Sunday saw us in the foothills of the Mournes, in Ballymartin. The Saul girls found it difficult to settle in the first half, letting Ballymartin gain a good lead. The second half was a different story! The girls decided to enjoy their football and some lovely flowing moves up the field, resulted in great scores. The match was end to end and gave the supporters a real exciting afternoon's football. It was a hard fought, physical game. The fight and determination shown by the girls was fantastic and the final score definitely did not reflect the game. A great come back girls, just unlucky in front of goal. Thanks to Ballymartin for a sporting match and thanks to all our travelling support, great to see!
We'll keep up the momentum girls!! Training Wednesday 6.30-7.30pm. See you all then.
U16 Boys were on the road yet again, heading to Darragh Cross with a number of lads unavailable. This meant that the rest of the squad and some U14s got a good run out in a very enjoyable match. Good performances from Dylan Connolly in goals, Rhys Cunningham in defence, Ronan Connor up front and support from Odhran Murray, Matthew Murray, Sean Fitzsimons and Naoise O'Hagan. A nice goal from Caolan McKeown was also great to see in the second half. Best wishes to John Mahoney that he recovers quickly from his injury. Championship begins this week with the tough opener away to St John's. Good luck to the lads.
Craig Cup concludes this week with semi-finals and final on Thursday night. Throw-in 6pm. See you there!
We are looking for entrants for Scór na nÓg for 2018. If you would like to represent the club in music, song, dance or drama or perhaps the quiz, contact Gareth on 07786837198 as we hope to get started in the later part of the summer.
Golf Day is arranged for Friday 8th September 2017 at St Patricks Golf Club, Downpatrick. There will be a SHOTGUN START at 3.30pm and tee times are available by contacting any member of the committee, or e-mailing secretary.saulstpatricks.down@gaa.ie
Training for the wee ones will continue as normal on Saturday morning from 10:30-11:30am at St Patrick's Park. If you'd like to help out, just let Eamon or Danny know, many hands make light work and we'd like to ensure that our future stars get plenty of help. Go raibh math agat!
St Patrick's Park will host the JFC match between Kilclief and St Paul's this Saturday evening at 5pm. Any help stewarding or getting everything ready would be much appreciated during the week.