Club Notes 6th November 2017
U13 Boys finished off the season beaten at home by Loughinisland. As usual, the lads played their hearts out and this end of season run has shown the talent they really have. Hopefully we will see this develop next year and on into the future. Thanks to the lads and their families for their support.
Annual Dinner Dance and Awards enjoyed by all
A fine meal was enjoyed in the Millbrook Lodge Hotel on Saturday night past by the gathered members who came along to celebrate another busy season on and off the field. Speeches from the vice chairman and senior managers of both the Senior Ladies' and Senior Men's teams were followed by the presentation of prizes.
Senior Lady was awarded to Laura Edgar and the ladies team chose Gemma Traynor as their player of the year. Brian Jennings, Irene Fitzsimons and Maeve Galloway presented the awards and commented on how well the team had bonded during the year and that with the influx of younger talent, they have a bright future ahead.
Senior Men's player of the year was awarded to Ciarán Harney, Reserve Player was Conor Marron. The Eileen Fitzsimons young player of the year was awarded to Jamie Morgan. Senior manager Donnan Ritchie awarded the prizes and thanked the current panel for their commitment during the year. The night continued into the wee small hours, with many's a story being shared and a few moves on the dance floor that were worth seeing!
Scór na nÓg 2017
Lights, camera, action! The East Down semi-final in Ballygalget on Sunday started the off-the-field competition for our younger participants. With entrants in Solo singing, Ballad group and Leiru, it was a full afternoon. Competition was strong and thankfully the full Saul contingent made it through to the East Down final, which is on this Sunday 12th November at 6pm in Dundrum. Maith Thú! Hopefully we'll get another good crowd going along to support them.
Juvenile Presentation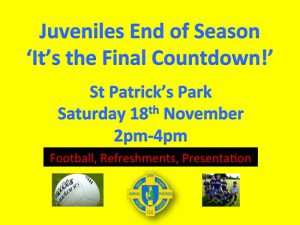 The end of season celebration for our juveniles will start at 2pm on Saturday 18th of November. Weather permitting, we'll have football for all followed by a short presentation and refreshments in the club. All children who played or came along to any of our sessions during the year past are welcome with their parents and it promises to be a great end to the year.
If you've a bit of time on your hands over the winter months, please keep an eye on our club website and social media as we will be looking for volunteers to help us get ready for 2018. Coaching, supervising, organising, supporting, tidying up – there will be something for all of us to get involved in and ensure we're looking forward to another great season ahead.